Regular price
$89.00 USD
Sale price
$65.00 USD
Unit price
per
Sale
Sold out
Take a backgammon masterclass from the masters!
Embark on a transformative journey through the world of backgammon with our interactive e-book, Backgammon Masterclass. Based on the bestselling printed version authored by SuperGrandmaster Mochy and Grandmaster Marc Olsen, this digital edition takes the learning experience to new heights.
Unleash Your Backgammon Potential
Imagine attending the renowned Ultimate Backgammon Championship lectures delivered by two of the game's greatest minds. Now, with Backgammon Masterclass, you have the opportunity to access their most detailed work ever, condensed into an immersive e-book experience. Dive into over 400 pages of expert thinking and unravel the complexities of the game.
A Comprehensive Curriculum
Every lecture has been meticulously transcribed, capturing not only the insightful presentations but also the engaging conversations that took place. The result is a comprehensive backgammon curriculum designed to address the challenges players face in real-world scenarios. Whether you're an intermediate seeking to enhance your skills or an experienced player looking to refine your strategies, this interactive e-book is tailored for you.
Unlock the Essence of Backgammon
Backgammon Masterclass brings clarity to the apparent chaos of the game. By breaking down complex concepts into simple and understandable descriptions, Mochy and Marc guide you through four distinct chapters, demystifying notoriously intricate components of backgammon. Each position is thoroughly analyzed from tactical and strategic perspectives, revealing the underlying patterns and philosophies of the game.
Inside the Interactive E-Book, You Will Discover:
Strategic Visualization: Leverage pattern recognition to swiftly grasp game plans in opening positions.
Backgame Strategy: Navigate the paradoxical checker play and cube action found in challenging backgame formations.
Game Plan Dynamics: Analyze the characteristics of each game plan and respond strategically.
Cube Action in Undefined Positions: Master the art of cube handling in ambiguous middle-game scenarios.
And Much More:
Over 200 meticulously analyzed problem positions to sharpen your skills.
Detailed explanations of vital concepts like equity, volatility, timing, and prime value.
Real-world examples from live matches, providing insights into Marc & Mochy's decision-making processes.
Engaging personal anecdotes that shed light on critical game junctures.
New techniques you can immediately apply in your next game.
The Language of Backgammon Redefined
Immerse yourself in the nuanced world of Priming, Blitzing, Racing, and Contact positions with academic precision. Backgammon Masterclass introduces a new language of backgammon, empowering you with a broader theoretical understanding that transcends specific positions. Through well-paced descriptions and strategic insights, Marc & Mochy equip you with a vernacular that elevates your gameplay.
Elevate Your Gameplay Today
Whether you aspire to improve your tournament performance or simply aim to enhance your enjoyment of the game, Backgammon Masterclass is your key to success. 
Important Note: Kindly note that our eBooks are accessible solely via our online academy platform. They are not downloadable files. Access requires an active account and internet connection. This approach enables interactive content and copyright protection.
View full details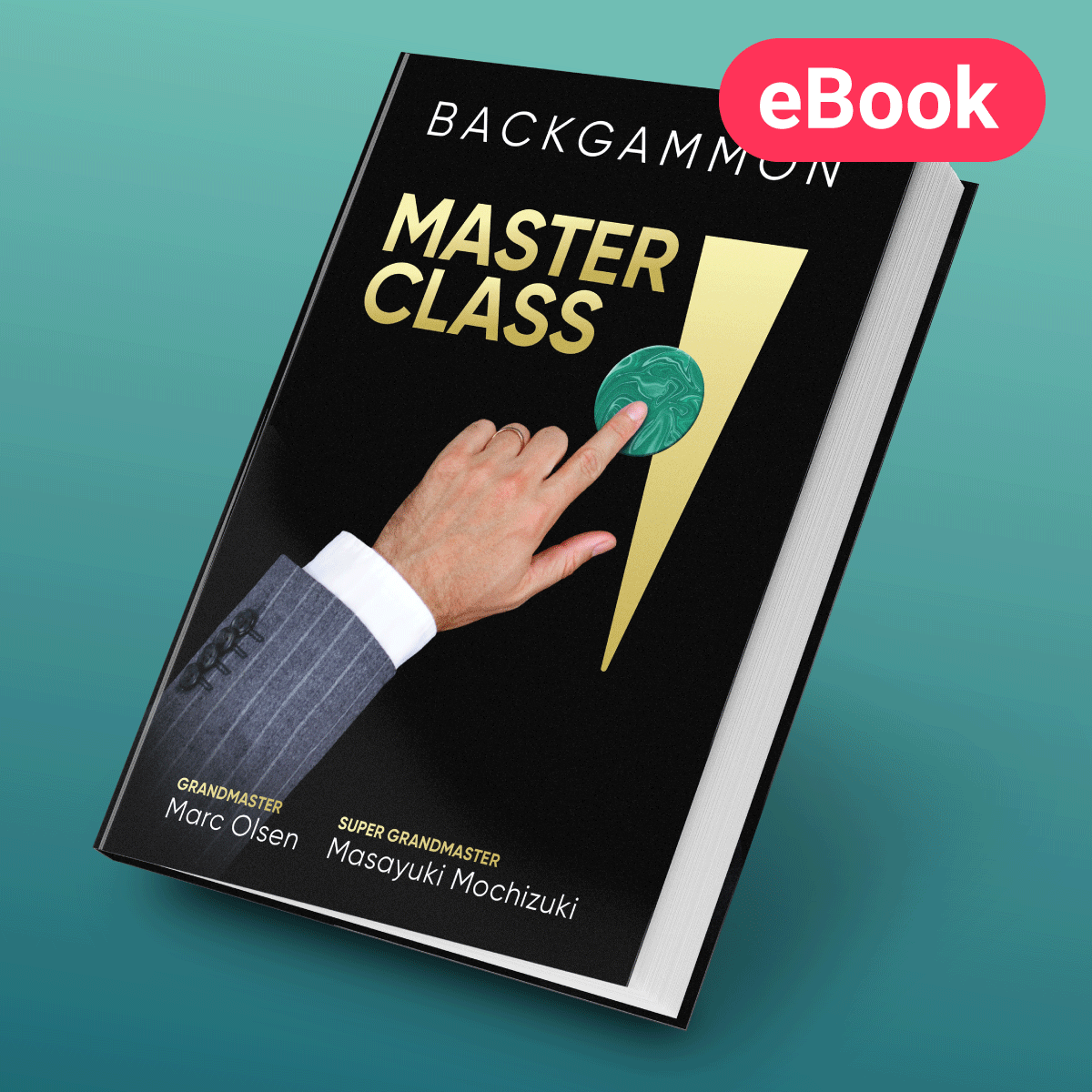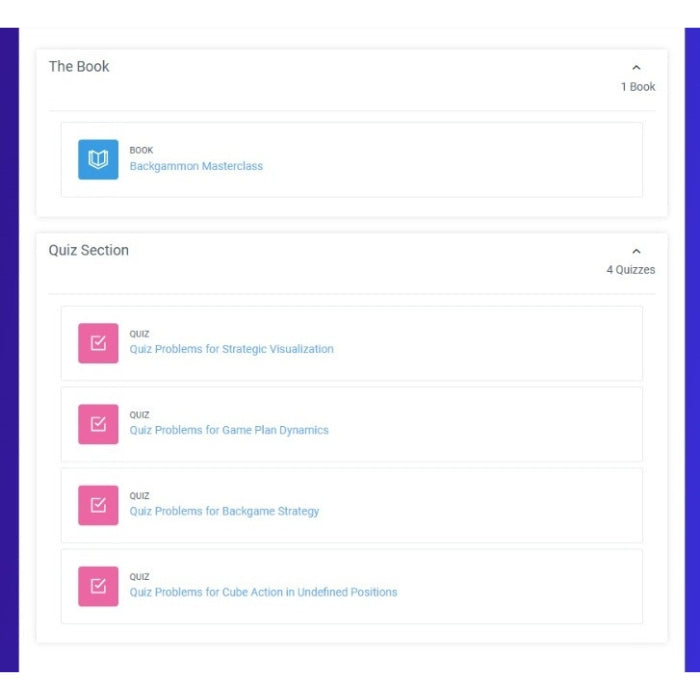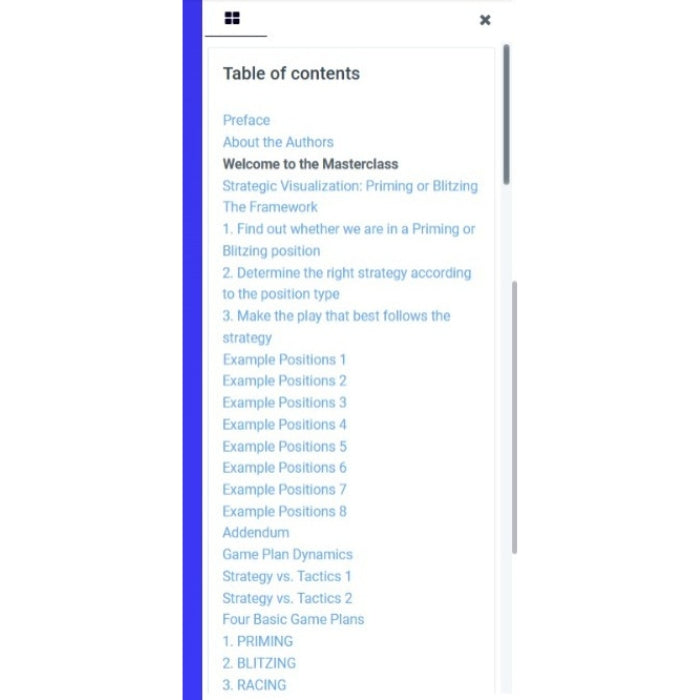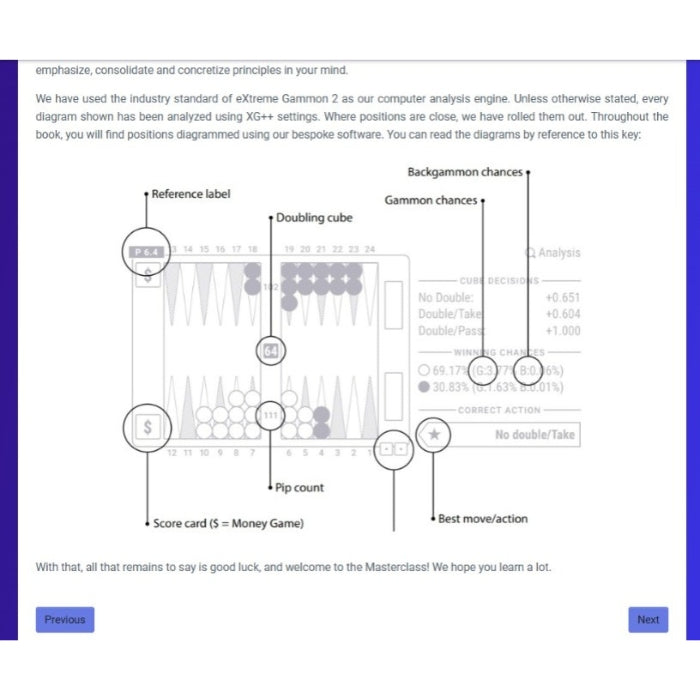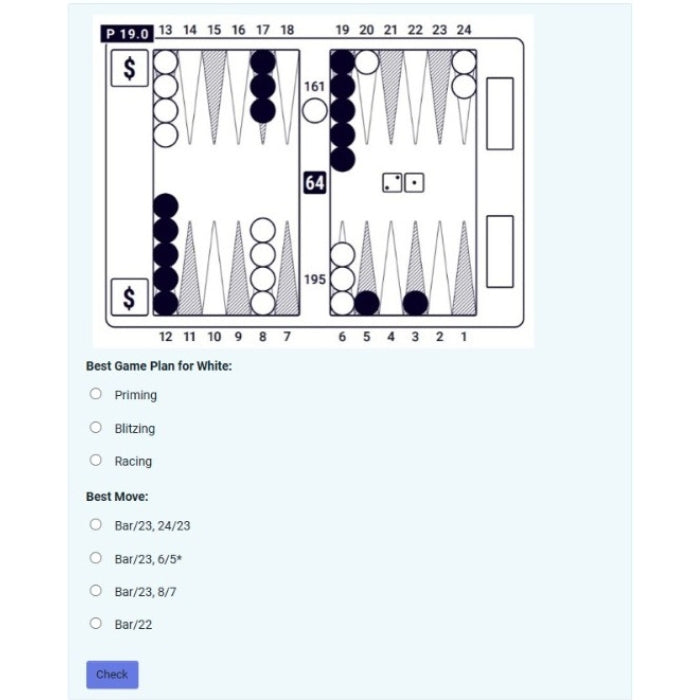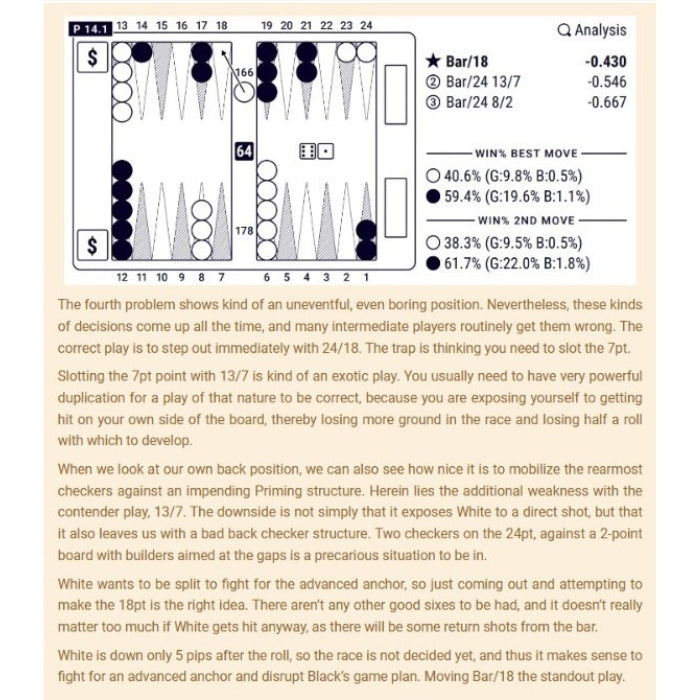 Good but maybe not great
I'm learning a lot from this e-book but I think it could be more interactive.
Good book, need to read more than once
I finished reading the book for the first time. Overall, it was very helpful. Mochy"s two chapters are excellent. Marcs first chapter is good and his second chapter on the cube is very good. Each chapter feels like it could be a book all by itself. I hope Mochy expands on his ideas in a new book soon. I would like to see Marc expand the academy on Galaxy to include more interactive classes with video. Overall, I recommend the book for all levels
Frequently Asked Questions
How to access content?

Follow 3 steps:

1. Create a shop user or login to an existing user.

2. Buy a course or ebook

3. Login to your shop user profile and click the "Login to Academy" button
Do I have to join courses at a certain date or time?

Absolutely not! Once you buy a course, it becomes yours forever. You can use it anytime you want on demand.
Who creates the content?

Only selected top players or grandmasters are invited to create content for our e-learning platform