Adventure Board, Neptune, Nebula or Earth Edition, Luxury Travel Set, Unisex Style, Carry Bag included
Adventure Board, Neptune, Nebula or Earth Edition, Luxury Travel Set, Unisex Style, Carry Bag included
Regular price
$550.00 USD
Regular price
Sale price
$550.00 USD
Unit price
per
Sale
Sold out
Shipping, Customs & VAT

Ships from Turkey or Germany.
Free shipping included.
Customs and duty may apply.
Free Shipping & Carry Bag Included
The Ultimate Travel Board
Backgammon Galaxy blended together two concepts: travel backgammon and high-end luxury. The Adventure board is probably the ultimate travel board in the world!
Cute, Sexy, Attractive
The board is painted jet black with carefully rounded corners and black hinges. This makes the colors inside the frame fantastically vibrant.

The glossy finger dish checkers are like fun little gemstones each with a tactile dimple that gives them a delightful look and feel.

Sit at a cafe and have a match. On-lookers and passers-by will comment and ask you about this unique and attractive board.
Holidays or Tournaments
You can bring this board anywhere. You can easily bring it around the world. It fits in a suitcase or under the arm.
What makes it more special is that you can be proud to even use it as a tournament board.
Though its checkers are smaller than those of a normal tournament size board the beauty of the board will make any opponent itch to play on it.
Gift Success Guaranteed
If you're looking around for a special gift for a special person this set is an amazing idea for him or her. The set is simply irresistible to any lucky recipient.
Unisex Choice
The Adventure board is a step further in the Backgammon Galaxy quest for renewed backgammon design.

Most boards are not made for both men and women. Usually, they are huge and heavy suitcases that are not attractive for both genders.

With the Adventure board's compact package this old design language is renewed.
What comes with the set
Backgammon board with

 either 

"Neptune", "Nebula" or "Earth

 (blue, purple or green) 

styled playing surface.
Doubling cube
Two dice cups
A checker box
30 checkers matching your choice of playing surface.
Elegant carrying bag
Galaxy Scoreboard
Measurements
Closed Board:
| | | | |
| --- | --- | --- | --- |
| | Length | Width | Height |
| Metric | 42 cm | 24 cm | 7.5 cm |
| Imperial | 16.5 in | 9.4 in | 2.95 in |
Checkers:
| | | |
| --- | --- | --- |
| | Diameter | Height |
| Metric | 35 mm | 11 mm |
| Imperial | 1.38 in |  0.43 in |
Size comparison closed board: 
Materials
Board: Painted beech
Carry Bag: Vegan leather
Checkers: Acrylic
Checker Tray: Vegan leather
View full details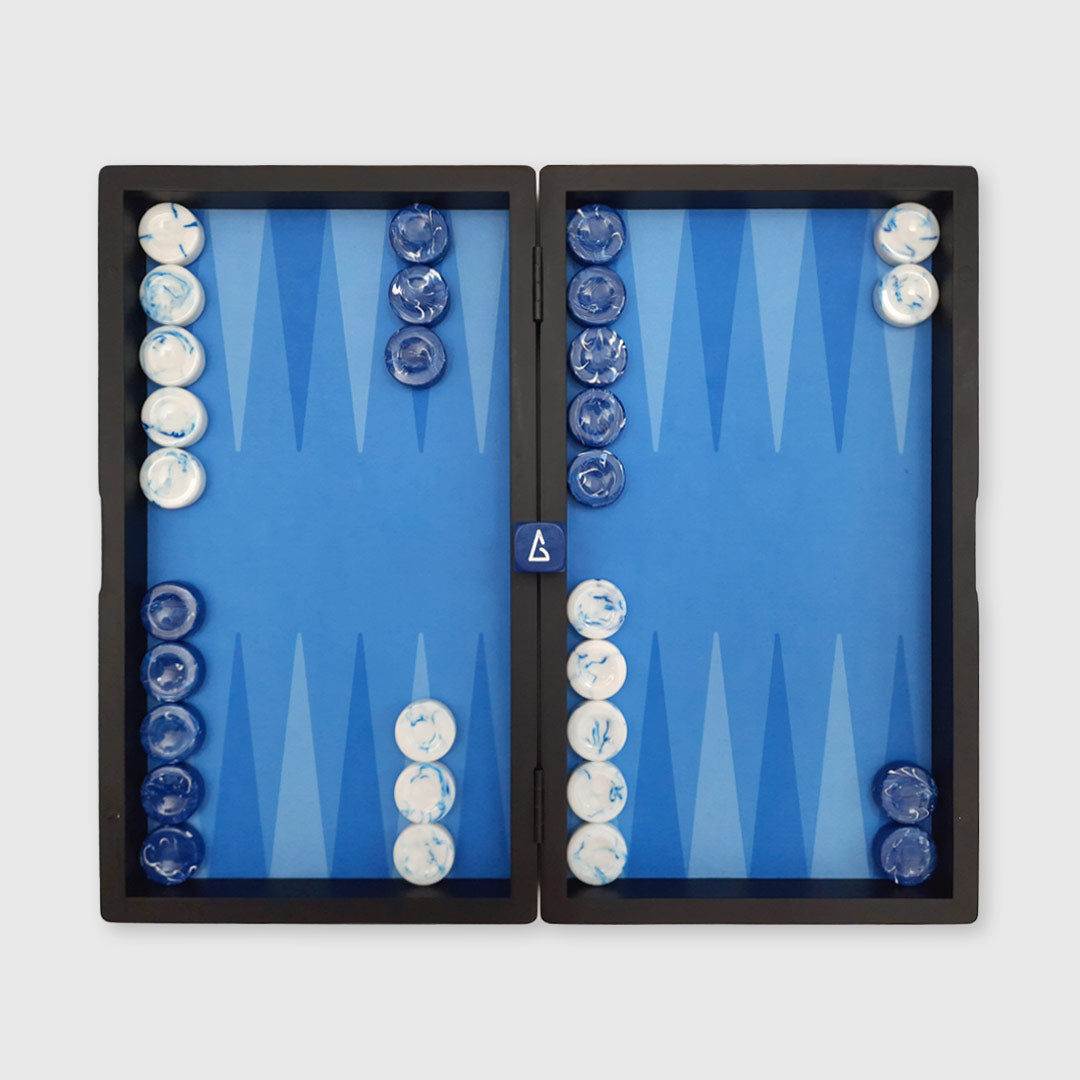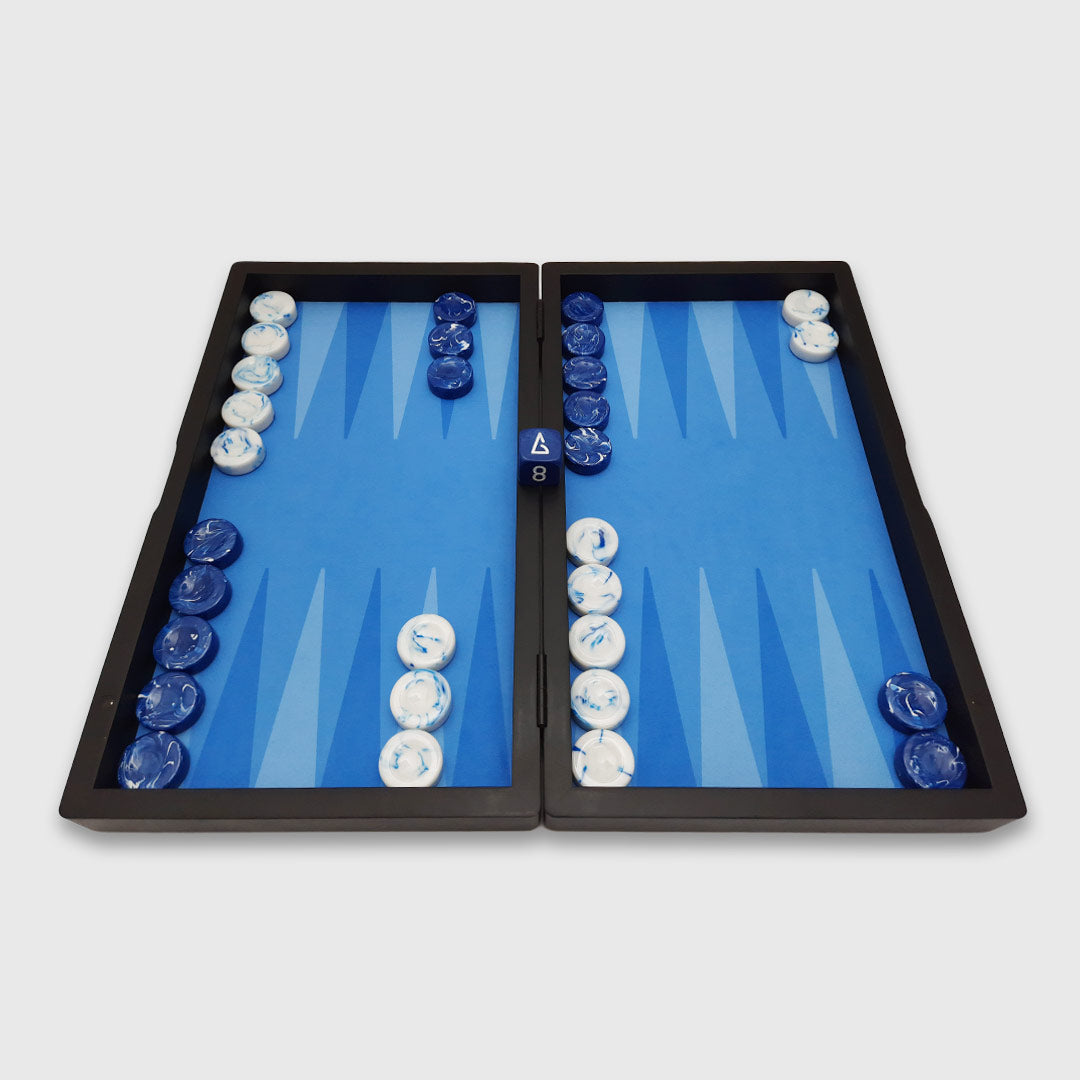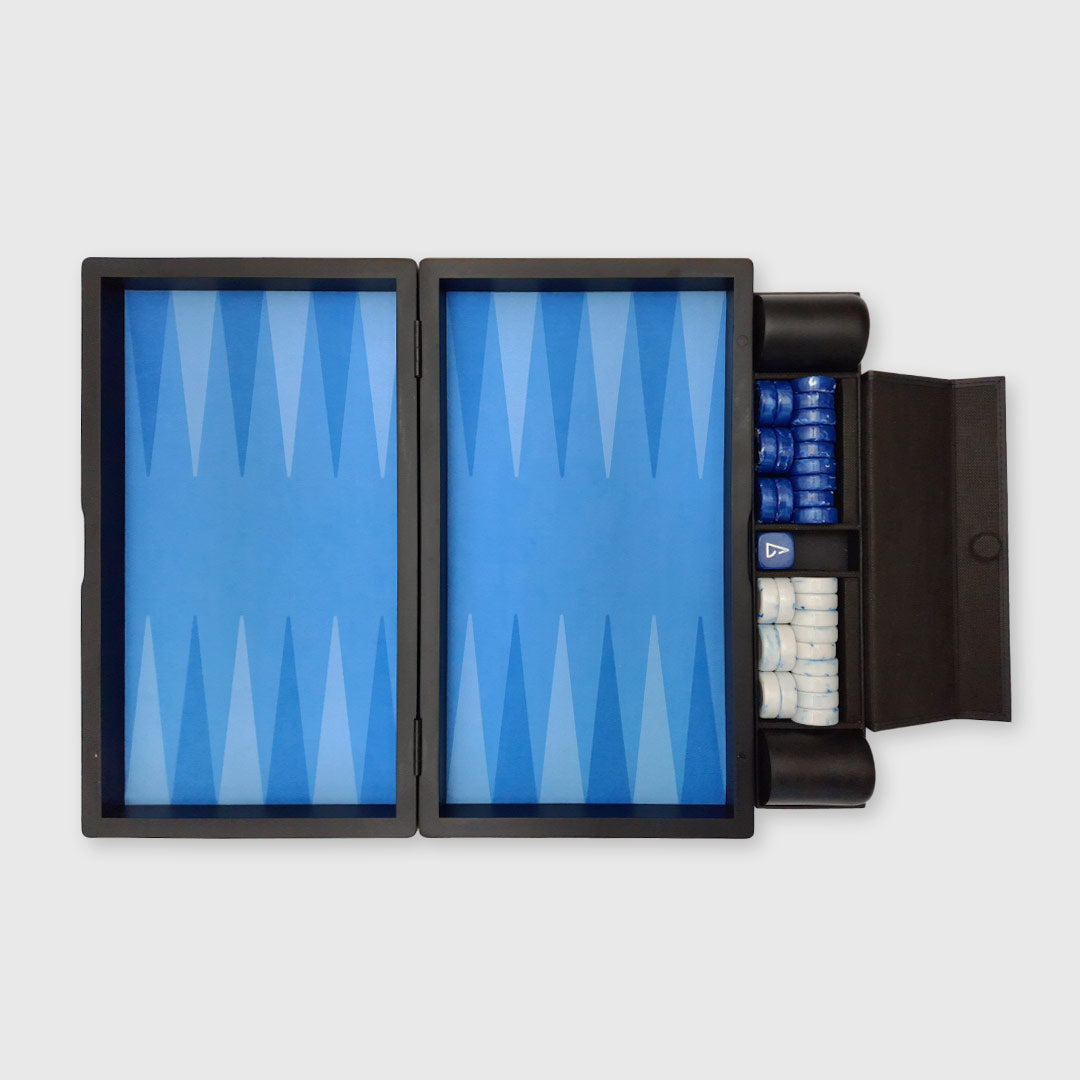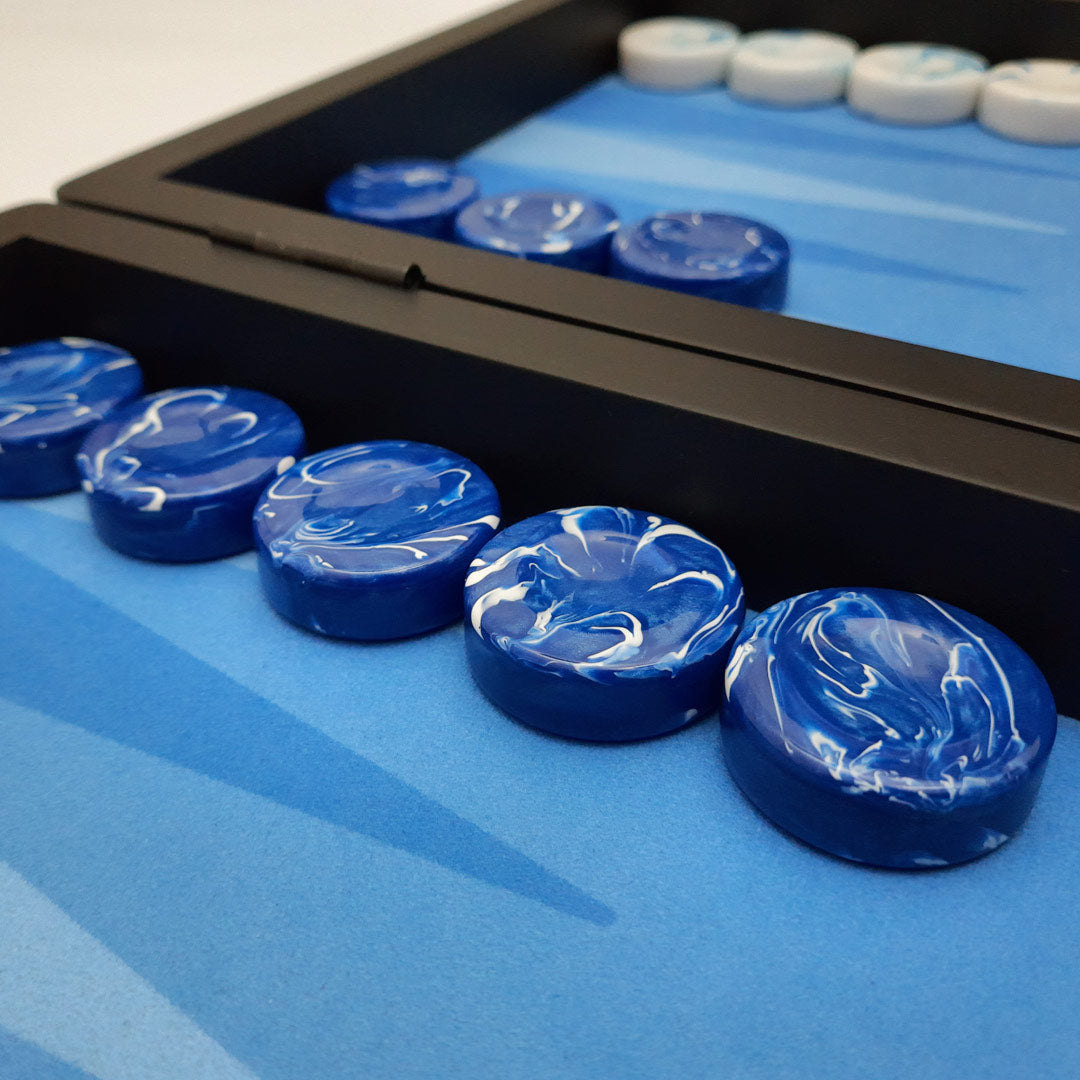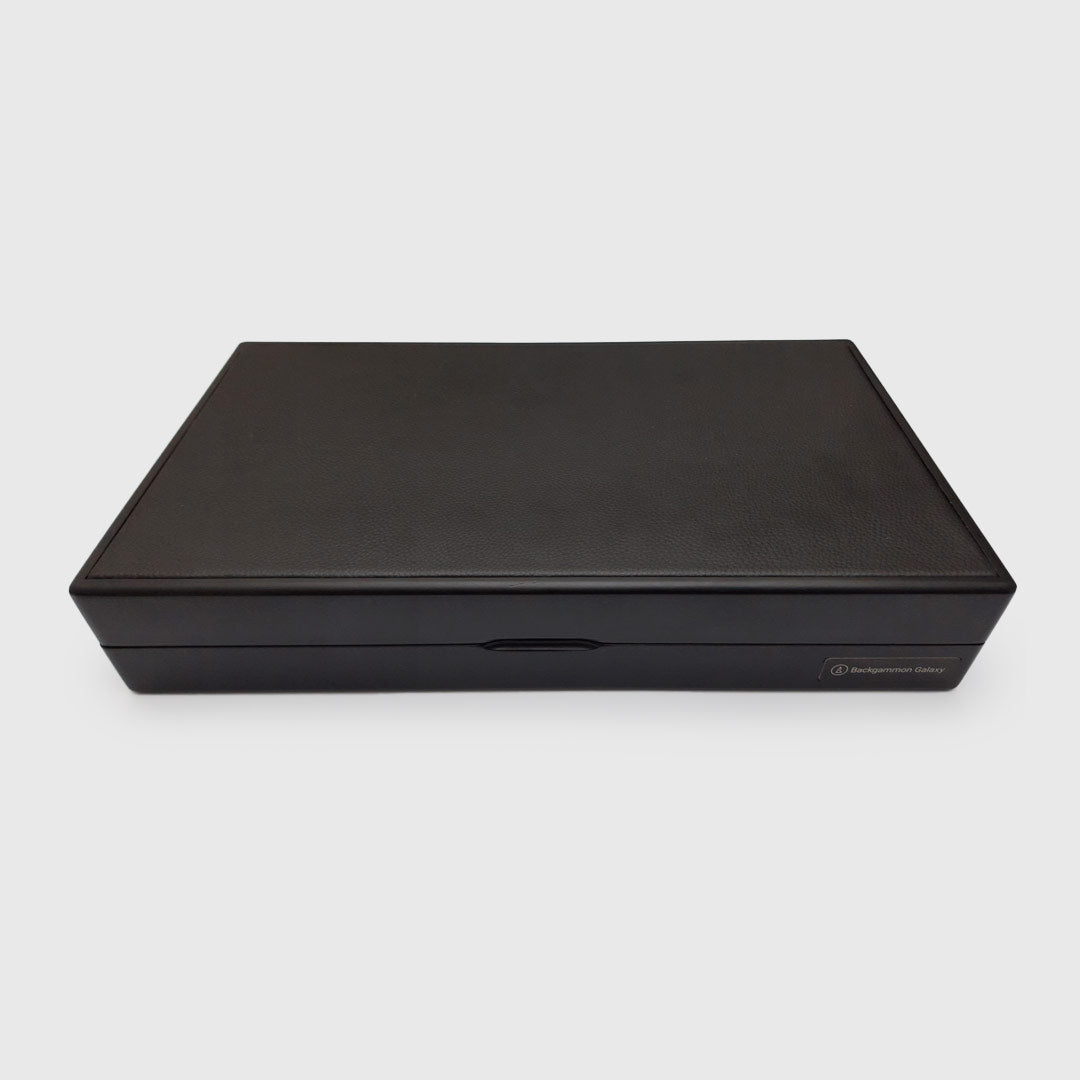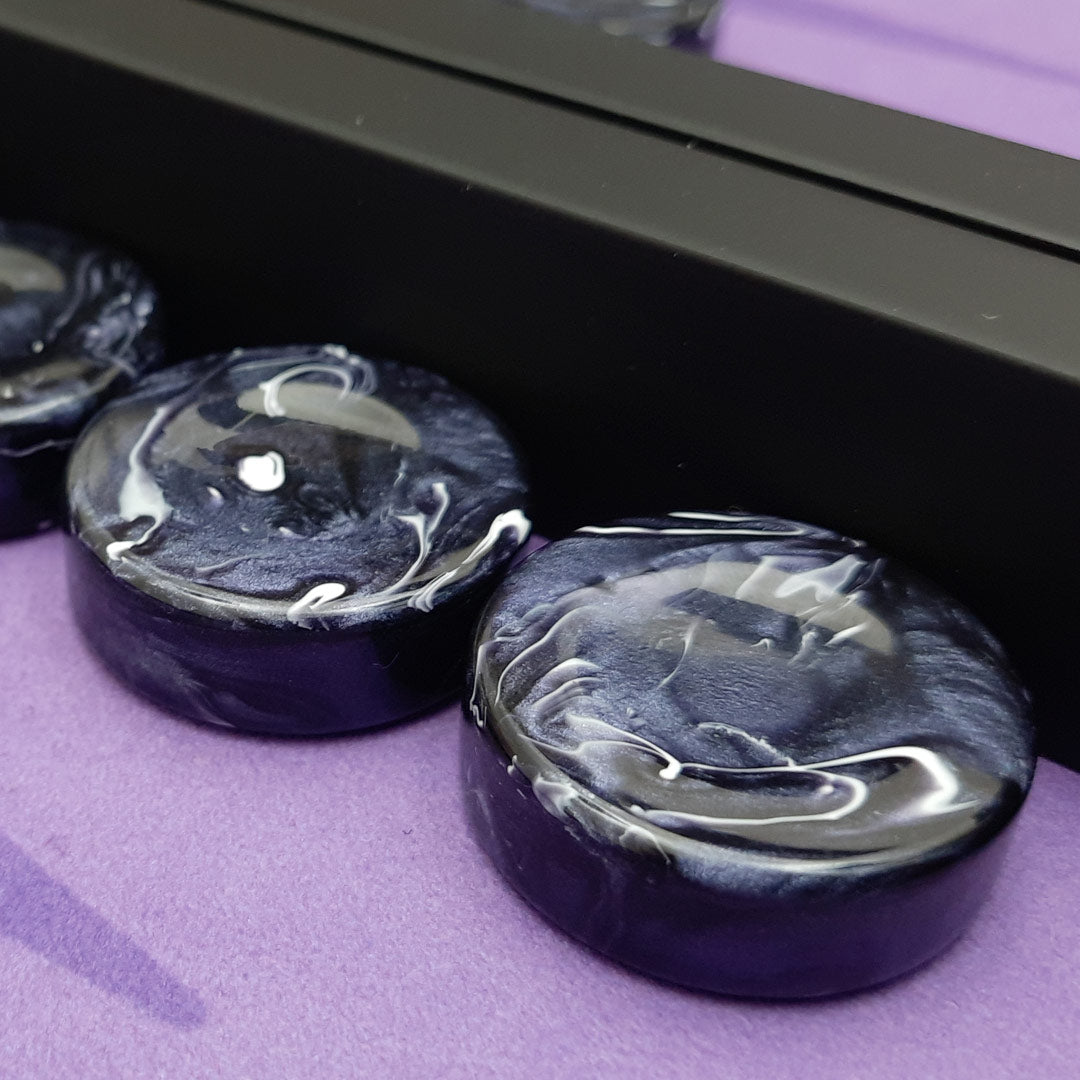 Beautiful, but flawed...
I'm a recent newbie to Backgammon, and owe all my enthusiasm to Backgammon Galaxy. So much great and inspiring content on YouTube! Their app is also the best out there.
I decided to spend over my budget on my first board and go for the Adventure Board rather than something cheaper, because I wanted to feel inspired to play.
The board arrived super fast and beautifully packaged. However, once I opened the box, the playing surface had some deep gauges and some of the checker box dividers had become unstuck. There were also no precision dice.
I was able to remove the gauges on the playing surface with some gentle brushing, but not completely. The dividers issue was fixed by gluing them in place, but the process was a little stressful.
The Backgammon Galaxy team were quick to offer a solution to these issues, but I couldn't help but feel a little bit disappointed. When you pay for what is described as a luxury item, you expect it to be 'good to go' straight out of the box.
Having said that, the set is beautiful. The perfect size for me to learn and play on, and the customer service I received was encouraging.
Great value
I bought the Nebula Adventure board about a year ago, have been waiting to review. First, my board shipped without the precision dice. I contacted BGG and they immediately shipped a set to me. Great customer service. The dice are nice, I also bought a green set that look and play great on the purple playing surface. As other reviews have indicated, the boards come shipped in bomb-proof packaging. I love the extra care in travel protection so that the board arrives in the same condition it was sent.
The performance and feel of the checkers on the surface are amazing. My wife and I play on it all the time and it makes the game feel more important than it does on one of the smaller, travel boards from the 70s which is what we played on before I made this purchase. This playing experience makes you feel like Mochi or Marc whipping the nicely weighted checkers around the board with nearly no friction. I really like the adventure size. This is a board that we play at home and we don't really have a large space to dedicate to playing, we can pop open the adventure board and play on our coffee table and still have that tournament feel with our games. I also take it with me to family holidays and the fam loves it. I will also be taking the board to the local pubs to play with my friends. But a new board is like a new pair of shoes, you can't take it out in public and risk getting it dirty until you break them in a bit first. I love the magnet closure of the board, it holds together well and feels very secure. The board itself is a perfect weight. The beech was a good choice and the finish is beautiful. Nothing about the board, checkers, or cups feel cheap, it is a great, quality product. The closed board fits snugly in the carrying case which is great to have when taking your board out and about.
My only knock is with the checker box. The glue used to hold the divider pieces in place was either not strong enough, not the right glue for the material, or it was exposed to an extreme heat or cold when it should not have been. There are several connection points that are unattached (came that way), thus when the checkers and cups are in-use and you go to put everything back into the holder, it is a bit of a pain to hold the dividers in place to put everything back. Once the checkers and cups are in, they are fine, nothing moves around. I believe BGG are aware and working to correct, so that might be a non-issue on the holders now. I need to glue and set them back in place but haven't gotten around to it, like i said, not a major deal but when you spend a decent chunk of money on a BG board, you want to feel the quality down to the last detail. That said, I absolutely love my purchase and would do it again in an instant. At some point I will pull on a full size tournament board but for now the adventure board is perfect for me and my backgammon experience.
Great Board
I ordered the Adventure board. Really like it. Shipping was amazingly fast to the US and the item was very well packaged. Fit and finish is quite good. Some of the dividers in the tray box came loose but this was easily fixed with a couple of drops of super glue. Love the size of the board and the checkers are awesome. Playing surface is beautiful and smooth. I too was slightly disappointed with the dice. There was a mention of a discount code for the precision dice you just got in. How do I obtain that?
Hi there,
We are striving to include precision dice for all our luxury boards. Currently we are out of stock, but if you purchase a luxury board from us you can always check and ask us for a discount later on if your board did not have precision dice when you initially received it.
Luxury
I picked up the Earth Adventure Board, and it is stunning! I have played on the full size Earth Board, and this feels just as good but in a smaller package.
I am very happy with this board, only thing is I would recommend picking up a set of precision dice to round this set out.
Adventure Board, Neptune, Nebula or Earth Edition, Luxury Travel Set, Unisex Style, Carry Bag included