Regular price
Sale price
$45.00 USD
Unit price
per
Sale
Sold out
Shipping, Customs & VAT

Ships from USA or Latvia (EU) depending on your location. Customs and duty may apply.
Master What Matters!
A holding game is likely the most common type of position that develops in any backgammon game.
So, is it more important to handle the cube with ease in the most esoteric and mysterious positions, or will you gain more by completely mastering the common positions?
The answer is, of course, simple. Get the core of the game right - and your game will be solid.
Get the Big Picture and the Smallest Details
In this book, GM Jacob "Stick" Rice takes you on a comprehensive tour of the holding game. And he does so in his entertaining writing style!
He breaks down the holding game into its smallest parts while also providing you with the big picture.
In the book, you'll get:
300 holding game positions with Grandmaster analysis
10 essential reference positions
4 core holding game rule positions
An entertaining writing style
A perfect chance to consistently and considerably lower your PR
Become a Guru of the Holding Game
His style of writing and teaching makes it feel almost effortless to become a true expert, or "Guru" if you like, of the holding game!
Backgammon Grandmaster and Backgammon Galaxy CEO Marc Olsen:
"I thought I couldn't improve in this part of my game. But Jacob's book added some nuances and great reference positions to my game. In my opinion, every player, regardless of their level, should read this book and will easily add a lot of new knowledge and skills."
About the Author
GM Jacob "Stick" Rice is a veteran of the game. Before taking a hiatus from backgammon to play other games professionally, Stick was a world-renowned Grandmaster, who was a top pick in the legendary "Denmark versus the World" matches.
In truth, he never really left backgammon but didn't hit the spotlight for some years.
Now he is making a public re-emergence with this stellar title!
Basic Information
Pages: 217
ISBN: 978-87-973336-1-7
View full details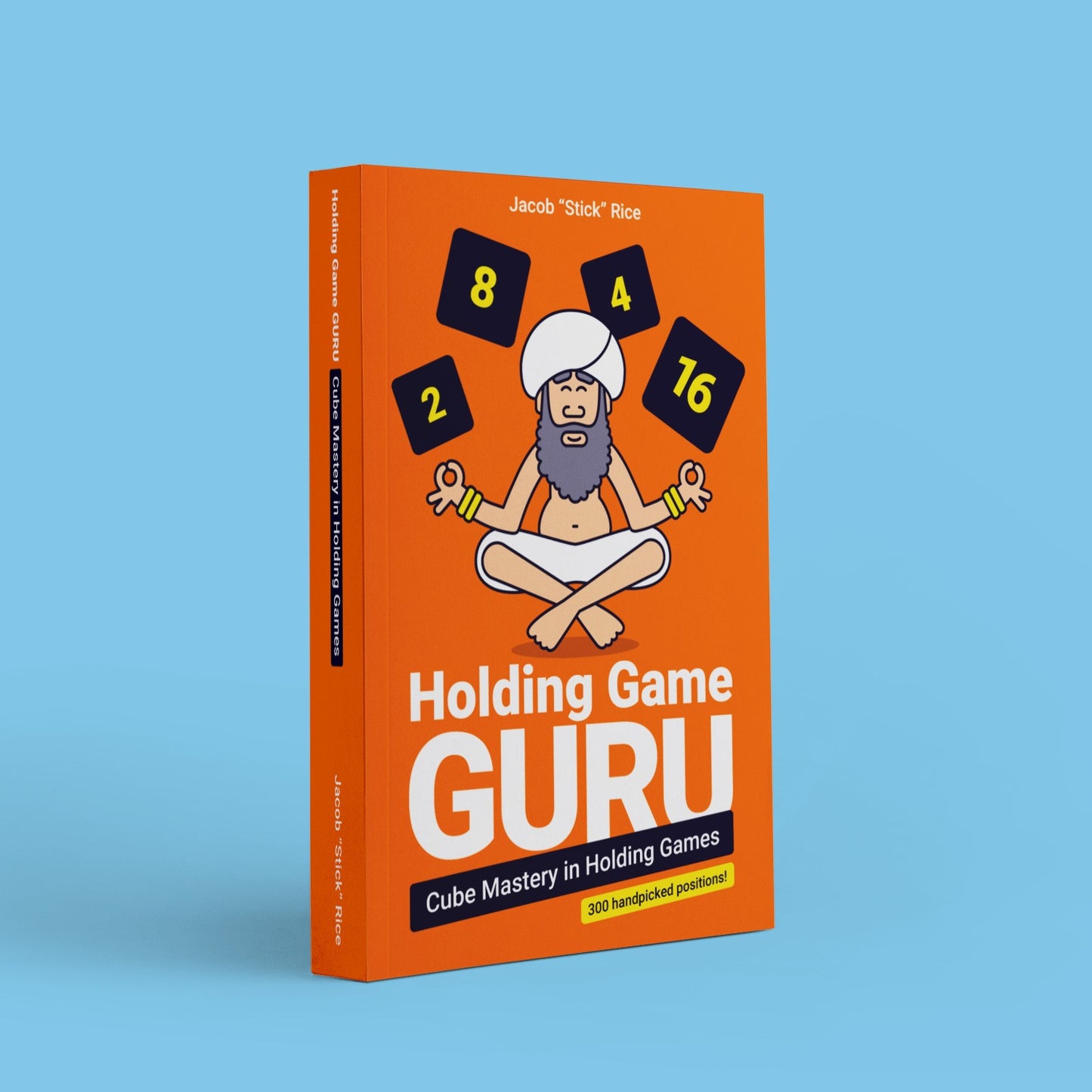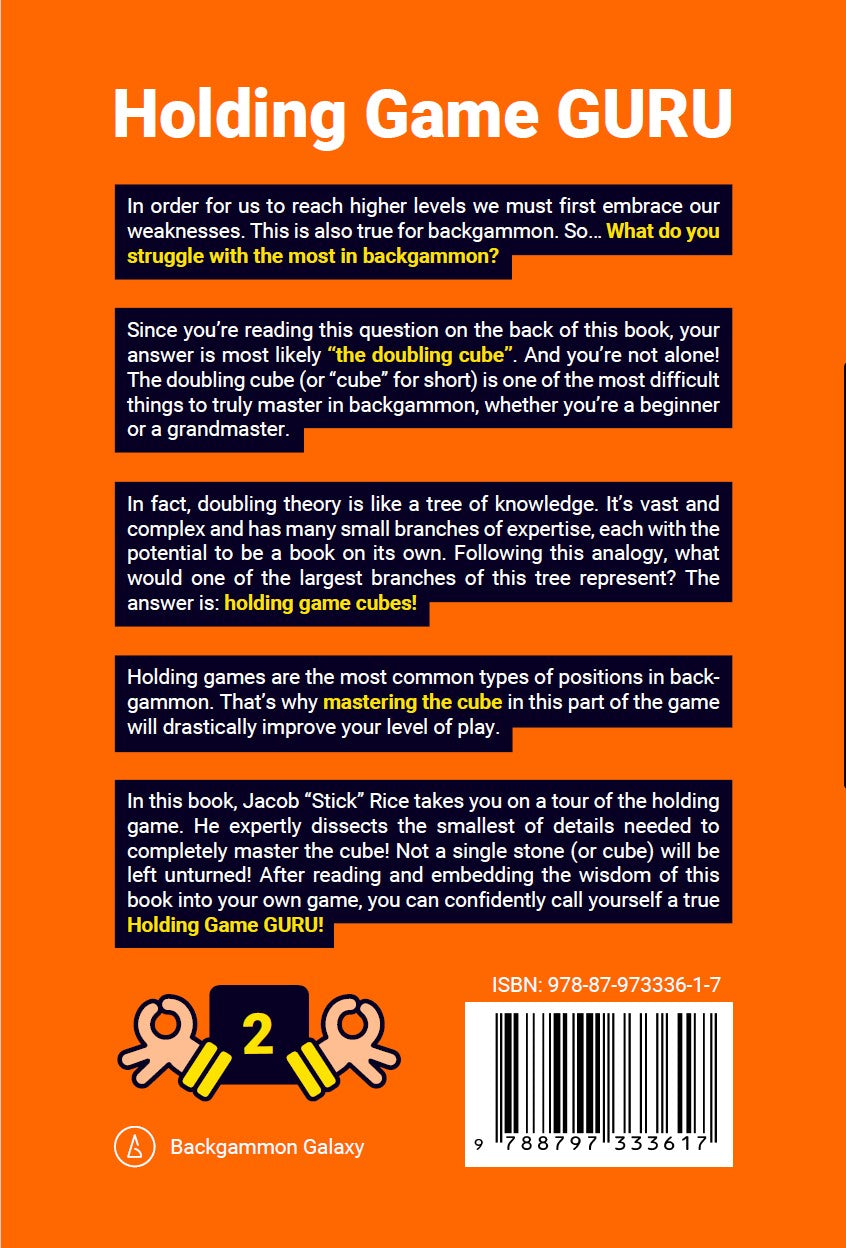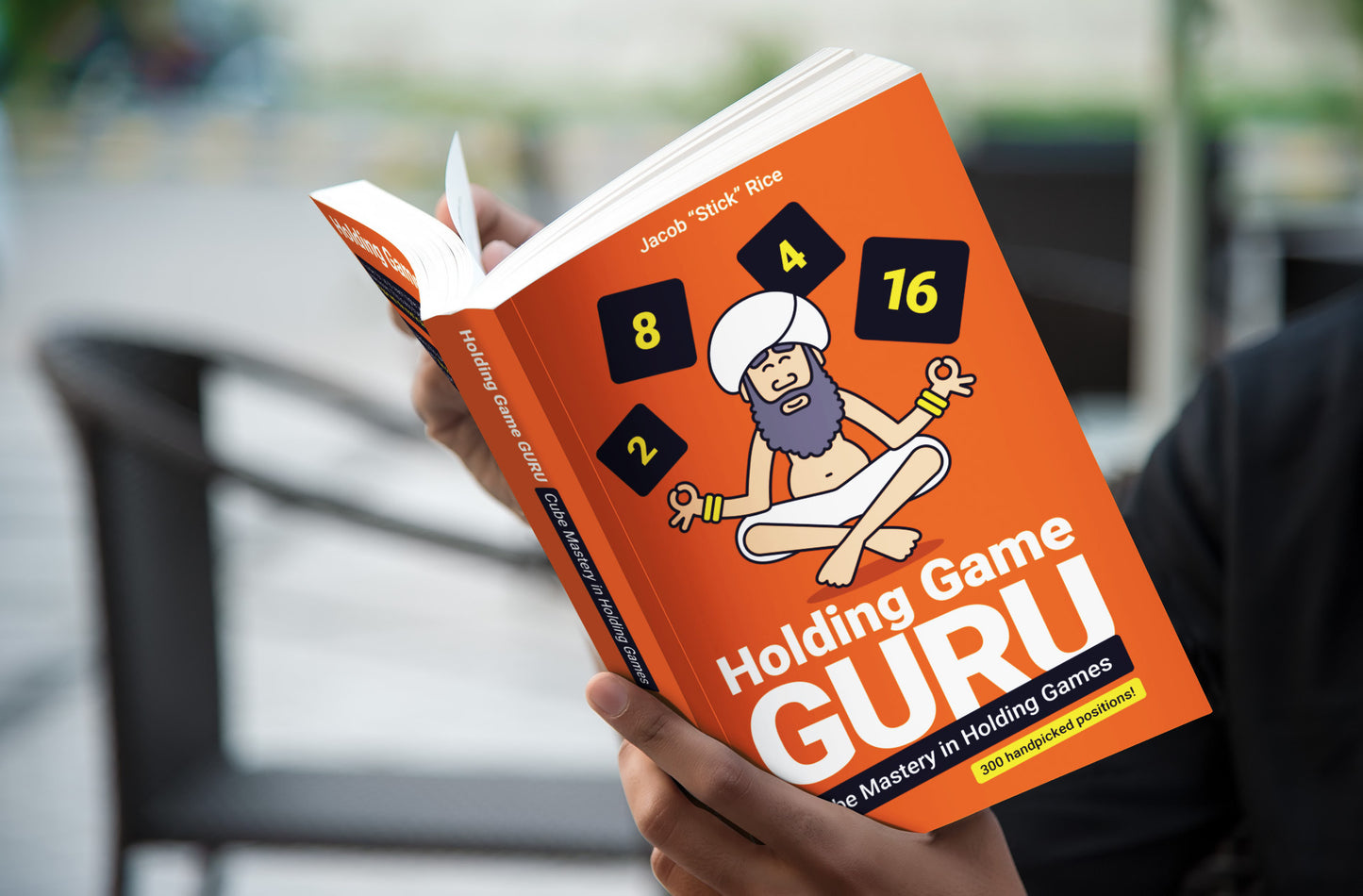 Very good book with minor annoyances
The content is excellent and you will certainly learn a lot from it. As with other Galaxy books, however, editing is horrible. Rather, it is non-existent. The good news, here, is that this author is a native English speaker. As the content moves forward, a fair number of positions are deemed no-brainers by the author with no further commentary. Not sure why their inclusion is necessary. Returning to the bright side, the book is made of quality paper that will hold up over the years.
EXCELLENT WORK
An excellent work of 300 holding game positions!!The greatest value is to be found in the No Double and Pass decisions!! The way every feature affects the cube decision is revealing!! However the gratest surprise was the following:Almost all of the positions are a Double/Take and even the Non Double positions have 65-70% winning chances!! This means that in chouette games the attacker is always better (because he has saved his back checkers or he is about to safety them) and the defender has always chances for a hit (except for the few pass decisions). So except from the few Non Double and Pass Desicions I may get wrong, IF I ALWAYS Double/Take I will be 90% correct! Maybe not in match games but I must study Nick Blasier's book (Adjusting for match play) for that! Thanks!
Love this book
By going tru all the positions you will really understand holding games more the ever !
Mist
Must read!
Especially for lazy buggers…
A well written book on a neglected but essential topic.