Regular price
$1,100.00 USD
Regular price
$1,100.00 USD
Sale price
$1,100.00 USD
Unit price
per
Sale
Sold out
Shipping, Customs & VAT

Ships from Turkey.
Free shipping included.
Customs and duty may apply.
Free Shipping & Carry Bag Included
Dark. Mysterious. Modern
Everything about the luxurious VOID backgammon board is about giving in to the total darkness of deep space.
The lack of distracting colors and shapes creates an illusion of a surface floating in nothingness.
No other board comes remotely close to giving the player the same breathtaking experience as when you first see the set.
A Black Monolith
The VOID board is part traditional, but wholly modern luxury backgammon set.
Carefully rounded corners, jet-black paint, stricking sharps lines and seductive inlays create a black monolith that is unmatched in the backgammon world.
Colors That POP
Each Backgammon Galaxy inlay style is guaranteed to sharply cut through the darkness of the board leaving an impressive vibrance. You can buy the VOID board with any of the irresistable Backgammon Galaxy styles.
The dark board makes the colors of the added inlays burst from vibrancy.
Use your Earth Board MagFit Inlays too
Since the dimensions are as the Earth board every Earth board owner can insert their other inlays perfectly into the VOID board.
What is MagFit?
MagFit is a magnetic surface inlay system that makes it easy to swap in a new inlay. It takes about ten seconds to transform the look of your board completely!
Why GMs love our Boards - Perfect Overview
The inner dimensions of the playing surface are exactly as you know them from the Earth board. This provides you with the best playing experience as your eyes can easily grasp the whole playing surface without any blindspots.
Read more about this feature here
Watch GM Ali Belene talk about his favorite board
Don't worry - No scratches
The outside of the board has protective vegan leather covering the case. You can set that board anywhere without having to worry about scratching the dark surface. 

Carry bag
Your board will have a beautiful carry bag included.
Auction of First 10 Boards
The first 10 VOID boards will be sold at an online auction. They will have a unique card of authenticity that displays its unique number on the back cover.
Not all 10 boards will be sold at one time, but at intervals.
Check our Auctions.
Basic Information
What comes with the set
Backgammon board with

 

"VOID"

 

styled removable playing surfaces
Doubling cube
Two dice cups
A set of "VOID" styled checkers
Elegant carrying bag
Galaxy Scoreboard
View full details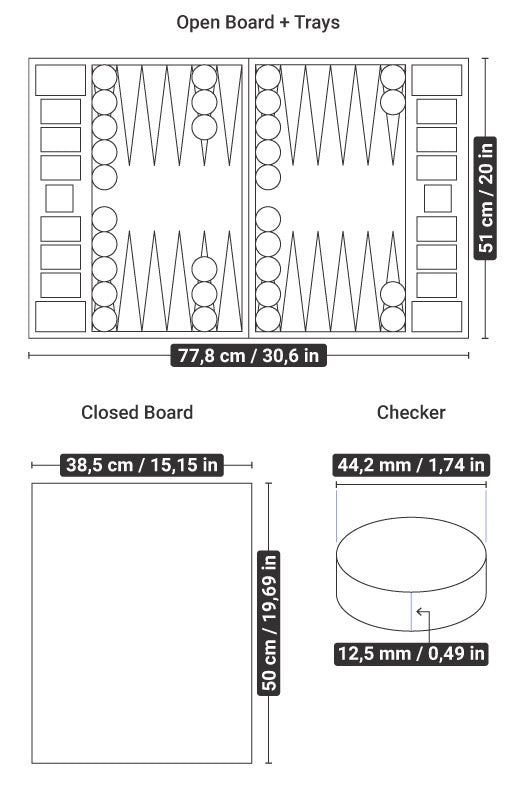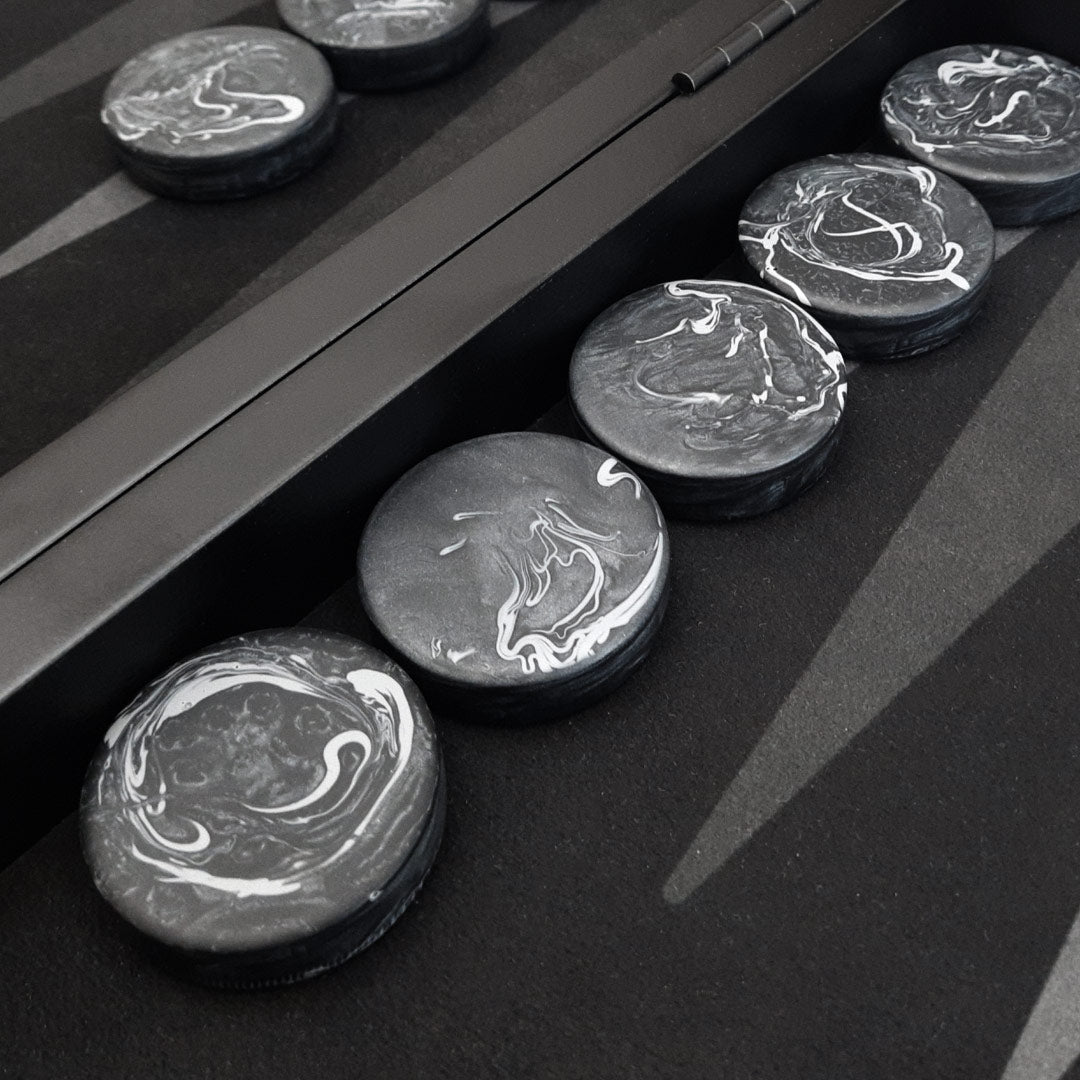 It's easy on the eyes.
When the board first arrived, I was dying to play a match on it. And that same day I did. WOW! I felt like I was dreaming. It was a pure joy to play on. I started with the black checkers and then switched to white. White seems to have the most variations in color, which is a matter of taste. I took off one star because I wished the board itself had a handle. It's the first time I've had to put a backgammon board in a case that I have no plans on taking outside. Anyone up for a game?
Great
Beautiful, minimalist design. Precisely what I was looking for. Well packaged and delivered quickly. The dice are too dinky for serious play, but the rest is marvelous.
Superb quality
What an amazing Backgammon Board - The new Void board is stunning, superb quality and worth every cent. The elegance of the beautifully crafted Void board and professional look takes playing backgammon to another dimension. Every part of the board, checkers and dice cups are of supreme quality, just what you would expect from Backgammon Galaxy. If you are a pro, amateur or just love backgammon, this has to be a 'must' buy. Very highly recommended and a backgammon board to treasure for life.
I recently received this board and I am amazed of the quality, looks and attention to detail. 5 Stars from my side!